Lunch menu & Á la Carte & Specials
The restaurant is available for all of our guests with a variety of imaginative meals. Every week from Monday till Friday we offer lunch menus, that we change up in a timely manner. Our Á la Carte menu offers various meals that satisfy even the most demanding customers. The dishes are prepared just from the freshest and the highest quality ingredients.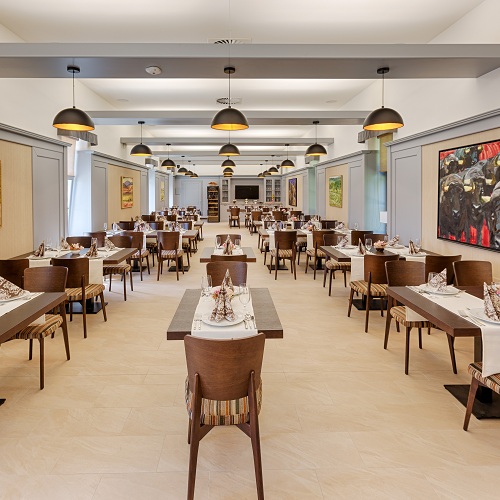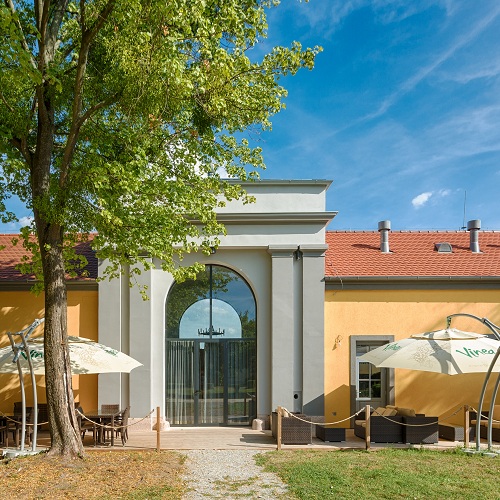 Monday: 11:00 – 21:00
Tuesday: 11:00 – 21:00
Wednesday: 11:00 – 21:00
Thursday: 11:00 – 21:00
Friday: 11:00 – 22:00
Saturday: 11:00 – 22:00
Sunday: 11:00 – 21:00
Our premises are suitable for
Family celebrations
Pleasant atmosphere and professional service will make your celebration an unforgettable day.
Weddings
Enjoy your great day in our luxurious rooms at your chosen decorative tones.
Conferences
Modern space solutions provide a perfect audiovisual experience of interpretation.
Training courses
Getting new knowledge, raising your knowledge about the subject, or getting to know the latest trends will make you more enjoyable on the premises of our facility.
Company celebrations
Appreciate your sophisticated employees and let them enjoy a good meal or a cup of quality wine in the pleasant setting of our restaurant.
YOUR RELATIONSHIPS ARE REQUIRED
If you have not found the food you are looking for, it is not a problem for us.
Please contact us at 0907 988 632 and we will be glad to make your meal at your reasonable cost. The restaurant capacity is up to 80 seats. The summer terrace has a capacity of 40 seats. For organizing larger social events, there is the possibility of creating a stage with high-quality sound technology. For smaller celebrations, a lounge with a maximum capacity of 16 people is available.
Carpaccio of beef candy with ripe balsamic and parmesan cheese

Mozzarella with tomato and basil
Lettuce salad with grilled chicken meat, bacon chips, cherry tomatoes, and parmesan cheese

Greek salad with basil, red onion, olives and salted cheese

Arugula salad with dried tomatoes, chili peppers, prosciutto and parmesan cheese

Slowly roasted trout on butter with tomatoes and thyme

Grilled salmon on lemon-cream sauce

Chicken medallions with steamed vegetables Julienne and coconut milk

Grilled chicken breast with Parma ham, mozzarella and basil

Chicken cutlets with mushrooms on cream cheese sauce

Pork tenderloin in bacon

Piquant pork tenderloin cutlets with brier sauce and green bean sauce

Pork fillet skewer (prosciutto, dried tomatoes, young maize)

Beef steak

Beef steak with honey baby carrot

Creamy risotto with spinach, pores, white wine and parmesan cheese

Risotto bianco with peas, zucchini, celery, carrot, cherry tomatoes and parmesan cheese

Penne with tomatoes, olives, rucola and chicken

Cream tagliatelle with pieces of salmon and dill
Home-made chicken soup with meat, vegetables and noodles

Tomato soup with fresh basil and cheese

Garlic soup with bread croutons

Bean soup "Jókai"

Soup from the daily offer
Baked chicken breast with ham, cheese and peach, steamed rice

Fried chicken breast, cooked potatoes with butter

Fried cheese, potato chips

Spaghetti with cheese and ketchup
Home pie - by daily offer

Pancakes with banana, chocolate and whipped cream
Boiled potatoes with butter

Chips

Steamed rice

American potatoes

Grilled vegetables

English vegetable with butter

Sour pickles

Pepperoni

Bread (1 piece)

Ketchup, Mustard

Dressing